Crankshaft pulley 6PK for XU10J4 and XU10J4TE (engines 16s ACAV, T16), aluminium alloy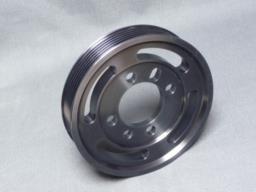 Crankshaft pulley 6 Gorge (6 PK) engines 16-valve replacement: XU10J4 and XU10J4TE.

Material on machine CNC aluminum alloy high strength (7000 series).

Four manufactured lights to reduce the exchange of heat between the crankshaft and the belt, so as to increase the life of the.

The piece is designed to be balanced from the machining. No subsequent balancing is therefore expected.

Mass: about 340 grams (original part = 1330 grams; or a gain of about 1 kg).

Decoration black anodizing.